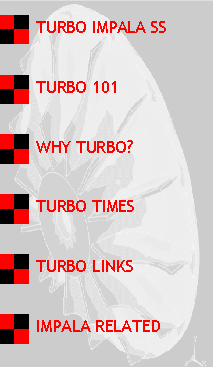 There seems to be a lack of good information about Turbo setups for the Late model 94-96 Impala SS. So here you go all the info you could want under one URL. The pages on this site contain VERY basic Turbo SS info for real info spend some time at the Turbo Links.
If you own a late model Impala there is most likely a local club near you. Joining a local Impala club will benefit you greatly. Also think about joining the National Impala E-mail digest and National Club IGBA or NAISSO.
If you know of a site I missed or have any information that would benefit Turbo SSer's please send me some mail.